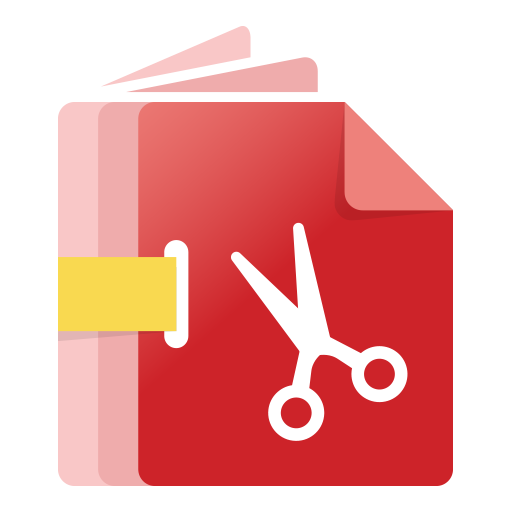 PDForsell ver4
PDForsell is an application that you can merge, split and rotate PDF pages. (Windows 10, 11)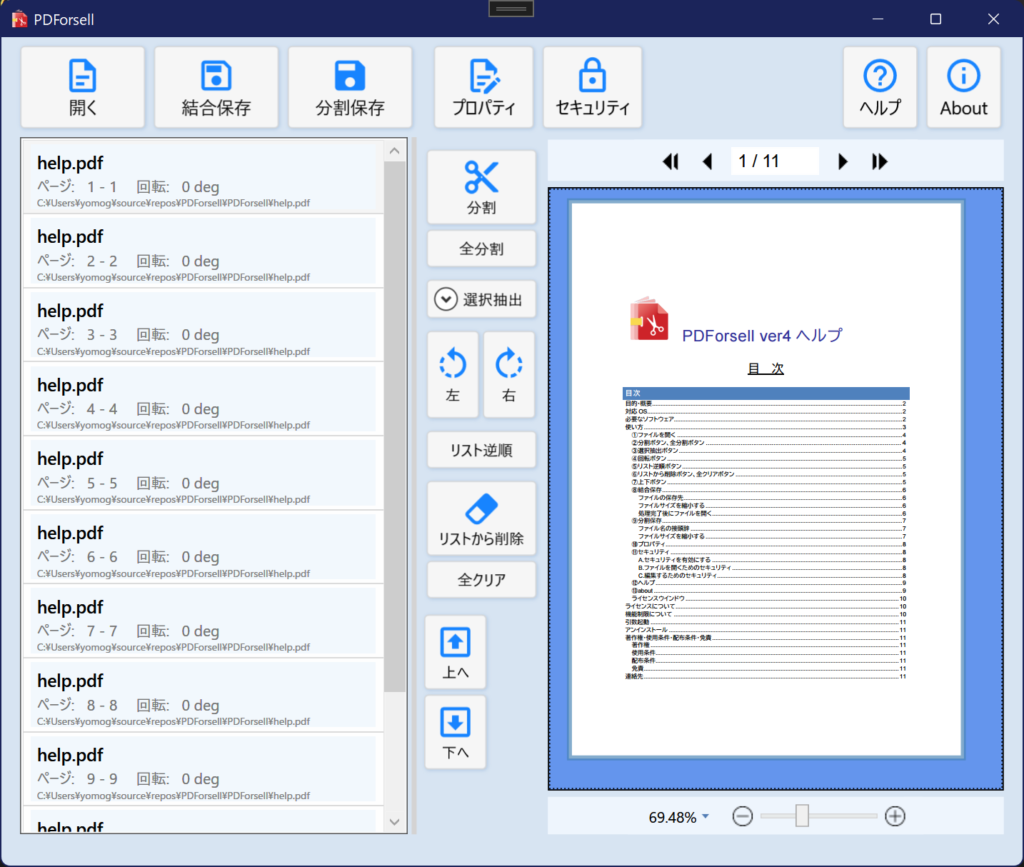 What you can do with PDForsell
Merge, split and rotate PDF files.
Page reordering.
File reordering.
Removal and Addition of Security.
Edit document properties for PDF files
Inherit forms, bookmarks, and attachments.
Inheriting annotations (comments)
What you can't do with PDForsell
Consolidate 2 pages into 1 page.
Entering figures, letters, annotations, bookmarks.
Libraries required for operation of PDForsell
The library required for PDForsell to work is the .NET 6.0 Desktop Runtime. The installer automatically recognizes and downloads and installs automatically. However, if for some reason it cannot be processed automatically, you will need to download and install it manually from the link below.
Jump to the Runtime download page from the link above, select 64bit (x64) or 32bit (x86) in ".NET Desktop Runtime", download and install.
License
The license is 1 license 1 PC.
Please note that you need to purchase licenses for the number of PCs to use it on multiple PCs.
There is no license compatibility with ver3 series. Ver4 cannot be authenticated with the ver3 trial release code. Also, since this is a major update, ver3 users will need to purchase a new license to authenticate ver4.
Minor updates to PDForsell are free. You will need to purchase a new license for major updates.

Example) ver 4.2.1.0 → major version 4, minor version 2
About purchase
We use a payment system called "Stripe". Only credit card payment is supported.
The license key is included in the email sent after purchase. Start PDForsell, go to About → License, enter your license key and press the "Authenticate" button.
*If you are purchasing a large amount for corporate use, please enter the required quantity before purchasing. You can authenticate up to the number of PCs you purchased with the license key described in the email sent after payment.
Copyright
This software is copyrighted by Yomogi Softoware.
About support
For support of PDForsell, please use the contact page.
Support for versions 3 and below has ended.
Change log
2023 5 Feb ver4.3.5
[Fix] Improved license activation process.
[Fix] Memorize the zoomed location of the preview window and fix it to return to that location when reselecting.
2022/12/18 ver4.3.3
[Change] Changed the file open dialog so that it returns to the same location the next time it is opened.
[Add] Added proxy server settings for network connection during license authentication and update check. (Refer to manual for how to use)
[Add] Modified to remember the compact list checkbox state and restore it at startup.
[fix] Fixed an issue where pressing an arrow key on a control would unexpectedly shift the focus to another control.
2022/7/29 ver4.3.2
[Fix] Fixed a bug that only the first page was previewed depending on the usage environment.
2022/7/6 ver4.3.1
[Fix] Fixed the rotation bug of PDF display and the bug when combining.
[Add] Support for "Open with" menu
[Fix] Fixed message display bug of connection check button
2022/5/1 ver4.3.0
[add] Changed to be able to specify multiple files from the file open dialog.
[add] Added function to specify PDF file version when saving.
[Change] Adjustments around license authentication.
2022/2/27 ver4.2.1
[Fix] Fixed display bug of rotation page.
2022/2/1 ver4.2.0
[Add] Multilingualization.
[Fix] Fixed last item not rotating.
2022/1/21 ver 4.1.4
[change] Changed
the installation folder to (user)\AppData\Programs in order to lower the authority to use the installer.
2022/1/12 ver 4.1.3
[fix] Fixed
that uppercase "*.PDF" files were not supported in Windows "Send" menu startup.
2022/1/12 ver 4.1.2
[add]
Added function to register PDForsell to Windows "Send" menu.
2022/1/4 ver 4.1.1
[modify]
I used ping for network check, but
changed not to include it because it is blocked depending on corporate security.
2021/12/30 ver 4.1.0
[add]Add
list sort button.
[change]
Changed the library used to .NET6 Runtime.
2021/12/8 ver 4.0.2
[bug]
Fixed the bookmarks being misaligned.
Fixed that sometimes the link in the file is not set.
2021/11/21 ver 4.0.1
[bug]
bug fix for license processing.
2021/11/19 ver 4.0.0
first release.